-Pgs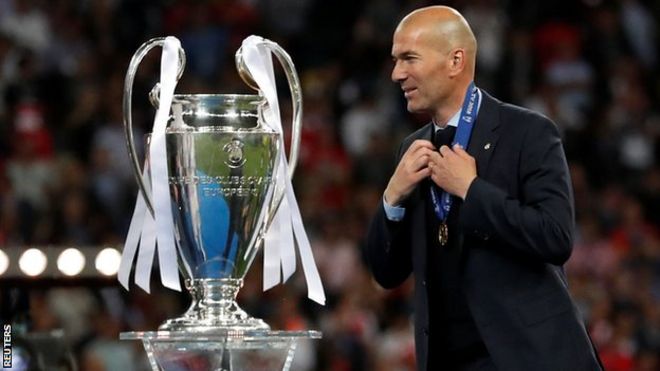 The phrase "the success of a team of individuals" may sound stupid, but give it context, especially in terms of football, it makes much more sense. A team is more than the sum of its parts, its the unification of a number of different players to implement a tactical philosophy. In most cases, the players are moulded to fit into the plans of the manager. For example, Jurgen Klopp has primarily bought players with great athletic ability such as Virgil Van dijk, Mohammad Salah, Naby Keita etc to fit into his philosophy of pressing high and attacking at speed. Pep Guardiola has bought players with tremendous technical ability to fit into his ideology of never losing the ball at Manchester City. The aforementioned players were bought to serve a purpose; to better implement the tactics of their coaches and increase the performance level of the team overall.
However, one of the most successful teams of the modern era, or any era, Zidane's back to back to back Champions league winning Real Madrid are an exception to this process of changing the personnel to fit into the system. By contrast, Zidane switched the system to fit the personnel. Real Madrid didn't have a clear tactical identity like Man City or Barcelona do. Real Madrid were stacked with incredible players to the brim. The could, as Felipe Luis put it in his post match conference after the 16/17 UCL final, "play in every way possible". And they did.  Unlike Pep's all conquering Barcelona or Klopp's Dortmund or any of Mourinho's teams, the way Real Madrid played differed according to the situation. In the 15/16 season, Real Madrid played almost always in a 4-3-3 with the BBC up top, in the 16/17 campaign, they started with the 4-3-3 then moved to a 4-3-1-2 with Isco replacing Bale and operating in the hole. In the 17/18 campaign, Real Madrid played in a 4-3-3, the 4-3-1-2 and even a flat 4-4-2 with Asensio and Vazquez starting as the wingers either side of a double pivot made up of any two of Madrid's midfielders.
There were some constants in all these formations. The main constant was the reliance on individual brilliance to score and defend. Real Madrid were outclassed by their opponents on countless occasions yet still managed to beat them because of the sheer quality at their disposal. Their tactical set-ups were either non-existent or risky to the point of sheer stupidity. In the 4-3-1-2, Real Madrid played with no natural wingers. This placed an immense burden on the full backs to close down the wing while providing width in attack. They still managed to do so because of who the full backs were. Carvajal is an incredible athlete who constantly overlapped while very rarely forgoing his defensive duties. Modric, especially when Carvajal was injured or rotated, played as an auxiliary RB, often carrying out the role better than most RBs while also conducting his play-making duties. This was only possible because of Modric's incredible engine and intelligence. On the other flank, Marcelo did what Marcelo does best; dominate the whole flank. One very underrated and unique ability of Marcelo is that he, unlike other fullbacks, actually dribbles. Fullbacks more often than not overlap when the defending fullback is occupied. This provides them with the space to cross. Marcelo on the other hand repeatedly beats his markers, ergo occupying the full backs by himself while also creating opportunities to cross. He usually completes 2 dribbles a game, much higher than the 0.8 of the average fullback. Against Bayern in the 4-2 win in the 16/17 season, he produced arguably the best fullback performance ever. Completing over 9 dribbles and sending in a number of crosses, he terrorized the left flank all by himself. His assist to Ronaldo for Ronaldo's third goal was more akin to the play of a box to box midfielder than a fullback. Bursting through the middle, he beat a number of Bayern players before squaring the ball to Ronaldo.
With such attacking full backs, any teams defense would be caught shorthanded. And Real Madrid were caught by teams on multiple occasions. If Real Madrid had any two center backs, even some of the best in the world, besides Ramos and Varane, they would've gotten thrashed every weak. The space provided to the opposition attackers was immense, but Ramos and Varane, with the help of Casemiro managed to stop wave after wave of attacks. Their intelligence, physical attributes (especially Varanes frankly ridiculous pace) and aerial ability made this possible. No other defenders could cover the amount of area Ramos and Varane did. Johan Cruyff once said that defending is all about space. The less the amount of space there is to cover, the easier it is to do so. So the fact that Ramos and Varane constantly covered for their fullbacks while also covering their own zones is a testament to their level of talent.
Further up front, the intelligent movement of Benzema allowed Ronaldo to play to his full potential, even when he slowed down due to age. Benzema and Isco helped the midfielders and fullbacks in creating numerical superiority in the wide spaces, which presented them with countless opportunities to cross. And when you have someone like Ronaldo in the box, those crosses are bound to go in.
Another one of Real Madrid's weapons was the ability of Ramos to score from set-pieces through sheer will power alone. This was most evident in the 16/17 season when he scored late winners or equalizers on more occasions than most players do in their careers. Whenever Madrid seemed to be down and out, Ramos scored.  A disjointed and disorganized Real Madrid side grabbing a late win through the power of sheer will alone was not an uncommon sight in Zidane's 2.5 years in charge.
The ability of players like Asensio, Ronaldo, James and Bale to score golazos on a regular basis also helped. When players can score from over 25 yards out, it helps in breaking down opponents.
It has to be understood that the almost every super successful team has become so due to the ability of incredible players producing moments of magic while perfectly enacting their managers vision on the pitch. Zidane's Madrid were based on the belief that Real Madrid are the greatest team in the world and have the best players in the world, not a specific tactical framework that glued together all the players. Real Madrid had an abundance of supreme talent, all with varying abilities that few other players possessed. When such a group of players were put together and given the license to do whatever they wanted to win, that was exactly what they did.