-Pgs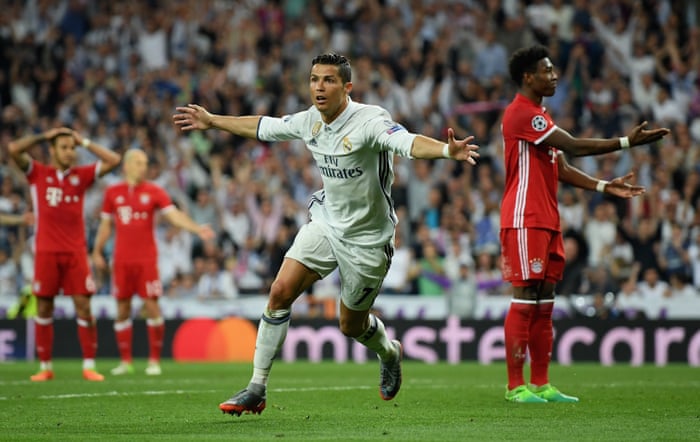 Quite possibly the most entertaining game that I have ever watched, the second leg between the reigning UCL champions Real Madrid and Bayern Munich in the Santiago Bernebeu was a match like no other. Real, who came into the match with a 2-1 aggregate lead after a Ronaldo brace in the Allianz arena, were trying to reach their sixth consecutive semi-final, and retain their crown.
On the night, Madrid lined up in a 4-4-2 diamond, with Navas in goal, Ramos and Nacho as the center backs, Carvajal and Marcelo as the fullbacks, Casemiro as the DM, Modric and Kroos in central midfield, Isco as a roaming attacking midfielder and a front two of Ronaldo and Benzema.
Bayern on the other hand lined up in a 4-3-3 with Neuer in goal, a center back pairing of Hummels and Boateng, Lahm and Alaba as the fullbacks, Xabi Alonso as the lone pivot, with Vidal and Thiago ahead of him. The front three was made up of Robben, Ribery and Lewandowski.
One very important thing to note is that this match was one with one of the worst refereeing performances by referee Viktor Kassai and his assistants. In fact, the refereeing was so poor, Real were given two offside goals, Bayern given one offside goal, Arturo Vidal was not sent off for two challenges that warranted a straight red, but for one that should have been a yellow, while the penalty Robben won was also via one of his usual hysterical dives. All in all, only two of the six goals that were scored should've stood, and the match should never have gone to extra time.
Another thing to note is that although it was Ronaldo who scored a hat-trick, the standout performance of the match was of his chief partner in crime; Marcelo. With quite possibly the greatest fullback performance in the history of the UCL, Marcelo tore Bayern to shreds. On the night, he completed 9, yes 9 dribbles, sent in 13 crosses, while also making two on the line clearances, one incredible assist, and one piece of skill that made Robben fall down to his knees as if he were praying.
Trailing the match with two away goals, Bayern started to attack from the get go, and their game plan was clear. They attempted to exploit the glaring weakness of Zidane's diamond; the lack of personnel on the wings. The only two wide players in the formation were the fullbacks. Due to this, Bayern could overload the wings and easily create chance after chance from the wings.
In the middle of the park, the talent levels were almost obscene. Very few midfields can match Xabi Alonso and Thiago on a technical level, but the Madrid midfield three of Kroos, Isco and Modric were more than up to the task. The combative presence of Vidal for Bayern and Casemiro for Real was also intriguing, as they provided a sort of grit that their counterparts did not.
Bayerns attacks off the wing very nearly bore fruit in the first ten minutes, with Ribery and Alaba doubling up on Carvajal and sending in a cross that was met my Thiago and would've been a sure goal had it not been for a sliding block by Marcelo. A few minutes later, with Marcelo having gone on one of his marauding runs, Lewandowski was free on the left wing, but was dealt with well by Ramos.
Alongside attacking via the wings, another characteristic of Bayern's play was their pressing. They attempted to stem the flow to Madrid's attacking players through a high press that was led by Lewandowski and Thaigo. The prime target for their pressing was Casemiro, as he was the least technically sound player of Madrid's midfield 4. Vidal often harried Casemiro as soon as he got the ball, while Lewandowski let the Madrid center backs have as little time as possible on the ball.
However, this pressing wasn't as effective as Bayern had hoped it would be. A defining characteristic of Zidane's Madrid was their ease at beating even the most structured of presses. This was down to mainly three reasons; the individual talent of Isco, Modric and Kroos, the fluidity of their play and the movement of Benzema and Marcelo to aid them.
Kroos, Modric and Isco's unflappability in midfield was remarkable as they constantly beat Bayern's press with a series of passing combinations or dribbles. Bayern's midfield found it increasingly difficult to mark them was they very rarely stayed in the same zones. Kroos was more inclined to stay in the left half-space and Modric on the right, but they could and often times did switch areas or overload one side. Isco was also a roaming presence, popping up wherever there was the ball to present himself as a passing option. Their movement broke the Bayern pressing structure and rendered any attempts at man-marking void. Moreover, Marcelo's constant forays into attack helped Madrid dominate the ball on the left wing as Isco, Kroos, Marcelo combined with Benzema to hold the ball.
Despite this, Bayern still had slightly more of the ball, which was due to Madrid's lack of pressing. Madrid were content to soak up pressure and try to destroy Bayern in transition. A key to this was Ramos, who was tasked with putting a stop to all Bayern crosses as his usual partner in defence; Varane, was out with injury and Nacho is weak in the air. Thankfully, Ramos was immense on the night heading out everything. He won 3 aerial duels in the box in the first 20 minutes alone.
To defend against Bayern's constant attacks down the wings, Madrid reverted to a flat  4-4-2 while defending, with Isco helping out Marcelo on the left wing and Modric helping out Carvajal on the right, with Casemiro and Kroos screening the center backs.
Despite playing in such a narrow formation, Madrid's main avenue of attack was also down the wings, the left wing in particular. Marcelo absolutely dominated that flank, with his overlapping runs and dribbles causing mayhem for Lahm and Robben. He often had Isco or Benzema for help, but was a massive threat on his own. I have never seen Lahm be as utterly dominated by an opposing fullback as he was vs Marcelo that night.
Another common sight was the typical switch of play. With Madrid overloading the left side, Bayern were naturally drawn to that side, leaving the right wing vulnerable. The play was switched to the right, to Carvajal a number of times, in order to create better attacking opportunities.
The second half started in the same vein, and Robben nearly scored via an Alaba cross, had it not been for another goal saving clearance by Marcelo.
Both of Marcelo's goal saving blocks/clearances.
Both teams had numerous attacks, with Madrid nearly scoring via a Ramos shot which was cleared spectacularly off the line by Vidal. The first goal however, took till the 53rd minute to come, when a trademark dive by Robben earned Bayern a penalty, which was put away by Lewandowski.
The Madrid reply came in the 73rd minute, when Ronaldo headed in a Casemiro ball over the top of Bayern's defense. This was one of the two goals that should have stood.
Four minutes later, Lewandowski received the ball in an offside position and his attempt to pass it back to Muller was accidentally turned in by Ramos. The scoreline needed to force the game to extra time was achieved.
The game eased up a bit after that, with both teams visibly tired. Madrid attacked a bit more than Bayern. Madrid also made two offensive changes, with Asensio and Vazquez replacing Benzema and Isco, which made Madrid revert to a 4-3-3. This was done for two reasons; to negate Bayern's threat down the wings, and to increase Madrid's offensive threat down the wings.
The 83rd minute was one of importance, as Vidal finally got the red card he deserved that match, albeit over 60 minutes late.
Extra time was a different story altogether. A man down and tired, Bayern were run rampant by Madrid, especially Marcelo, as they conceded three goals in extra time. Moreover, they should have received a penalty as well for a foul on Casemiro.
Due to fatigue and being a man down, Bayern started leaving huge spaces in between the lines. These gaps were exploited over and over again by Madrid, with two of the Madrid goals coming as a direct result of this. Marcelo simply burst through the middle of the pitch, beating three players while doing and laid it on a plate for Ronaldo, while Asensio beat a weary Hummels twice before scoring.
Overall, the game wasn't a tactical masterclass by either side, but more of a game with subtle tactical tweaks and an intriguing midfield battle. Madrid went on to dispatch Atletico in the semis and thrash Juventus in the final to become the first ever team to retain the UCL, while Bayern reached the semi-finals of the next year's edition of the UCL, only to be beaten by Madrid again, who would secure a third straight UCL win under Zidane.