-Pgs.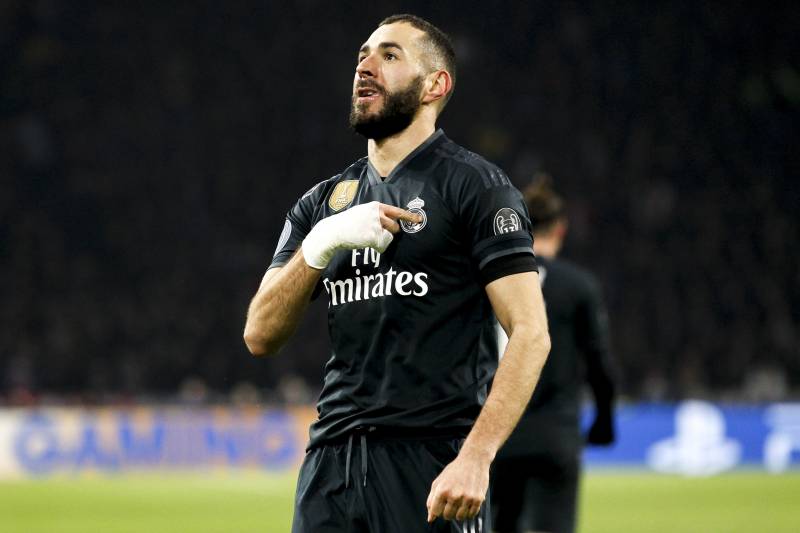 As it is with all great stories, there are some characters who simply do not get the amount of credit they warrant. Always overshadowed by their more glamorous compatriots, these characters, and their contribution to the narrative, take a back seat in re-tellings of the stories, and become little more than side characters as time and ignorance fade people's memories. And, more often than not, these characters do not deserve such a massive injustice to befall them, rather, they deserve to be given the same plaudits as their counterparts, but due to some reason, or a plethora of reasons, they do not.
In the epic that is modern day Real Madrid, the side character who has been sidelined, alongside his contributions, is Karim Benzema. Often derided for some misses, and a shaky scoring record, Karim Benzema, in the eyes of many, has been nothing but a stowaway in the the Real Madrid team. Always thought of as a player who more or less is carried by his teammates, Benzema has been given a reputation that he has done nothing to deserve. Those who have followed Real Madrid regularly since the moment Benzema arrived at the club will know that he has been an integral part of all the successes from that point onward.
If you were to take any one of the original galactico's, and compare their legacy to Benzema's legacy at the club, no-one would come close to Benzema. The only way to argue that one of the original galactico's has a better legacy at the club, and in football as a whole, would be by including all that Zidane has achieved as a manager and as a player for France in your argument. Other than that, Benzema is far and away in terms of success and legacy than all of them. A winner of four champions league trophies, a scorer in a final and multiple semi finals, two league titles, amongst many others trophies, the fourth all time top scorer in the Champions league, and in the top ten of all time highest scorers for Madrid, Benzema is a bigger legend for the club than any one of the original galactico's, yet he is not even celebrated as even as half as much as all the others are.
The reasons for such a lack of recognition are simple; the nature of the player, and the repeated publishing of ignorant analyses and jokes about the player. Karim Benzema is a victim of his own selflessness and the inability of the majority of people to think critically about what they see and read.
As a player, Benzema is probably one of the most unselfish to ever play the game. When playing with Cristiano Ronaldo, there is no way a player will ever be the main man at their team, but the extent to which Benzema went to to help Ronaldo be the best Ronaldo he could be was incredible. In the initial phases of their stay at Madrid, Benzema operated as a sort of link man in the counter-attacking system implemented by Mourinho. Holding up play and bringing others into the game, Benzema allowed Ronaldo and others to use their pace to end teams on the counter. Later on, when the team became a bit more possession oriented and Ronaldo became more and more of a striker, Benzema again sacrificed his game for the benefit of others. He started operating more and more as a false 9, drifting into the space on the left that Ronaldo vacated to help link play with the likes of Marcelo and Isco to create chances for Ronaldo in the box. When the BBC came to the fore, Benzema acted as a link man once again, but this time to the two wingers either side of him, connecting play and creating for them. He often dropped deep to help circulate play, occupied whatever space was vacated by his wingers, even if it meant leaving the box, and did whatever was necessary to help the likes of Bale and Ronaldo thrive, even if it meant sacrificing his own game. There is no better way to describe Benzema than how he described himself; "a nine with the soul of a ten".
All the while, he still maintained a goal ratio of around 20 a season, and still remained one of the top assist providers for the team.
However, all of this still hasn't gotten him the reputation he deserves; as one of the best players in modern football and one of the most unique players ever. Mainly due to highly biased and ignorant analyses regarding what he does as a player, and the constant hammering of these opinions on social media, coupled with the rounds some his misses make on the internet, Benzema is seen as a striker with poor finishing who doesn't deserve the success he has. But one thing people fail to think is, why hasn't he been displaced by any one of the numerous strikers who have played at Real Madrid during his stay at the club? Or, why has the club not opted to sign a replacement? Why has a club with unlimited resources and quite possibly the strongest pull in football not opted to sign a replacement for such a poor player? The inability of people to entertain such questions has lead to the cultivation of the idea that Benzema is at best a good player, when in actuality, he is one of the very best to play football in this era.
There are very few strikers, if any, who do all of the things Benzema does, and at the level he does. What Benzema is, is a hybrid of a striker and a number 10. One of the best dribblers of all top strikers, Benzema can operate in the tightest of spaces, can attack down the wing and can operate in spaces in and around the box. His link up play is also one of the best around, while he also manages to do what is generally expected from a number 9. With over a 180 goals for the club, he has one of the best scoring records around. Even in Real Madrid's worst season this century, he managed to score 21 in the league, a tally bettered only by the top scorers of the top 5 leagues in Europe and 30 in all competitions.
Those who have watched him regularly know that there was no player who was a better fit for the Madrid teams he played in. Madridistas all around know what he is capable of doing, and has done for the club. The archetypal modern striker, Benzema deserves to be pulled out of the shadow and start being appreciated for what he is; an all time great, for Real Madrid, and for football as a whole.