-Pgs
The day Bayern Munich obliterated Barcelona 4-0 at the Allianz was one that will never be forgotten. Not only because of the scoreline, but because of the dominance of the Germans on that day. That match is up there with some of the most iconic UCL matches ever, because it was the match in which the Juego de posicion (JDP), or game of position in English, was outclassed (calling JDP tiki-taka is highly insulting therefore I choose to not do it).
Bayern Munich, led by Jupp Heynckes, the man who had ended Real Madrid's 32 year UCL drought in 1998, lined up in their usual 4-2-3-1 with Neur at goal, Alaba and Lahm at LB and RB respectively, Boateng and Dante in the center of defense, Schweinsteiger and Martinez as a double pivot, Muller as an AM, Ribery and Robben as the wingers and Mario Gomez as the sole striker.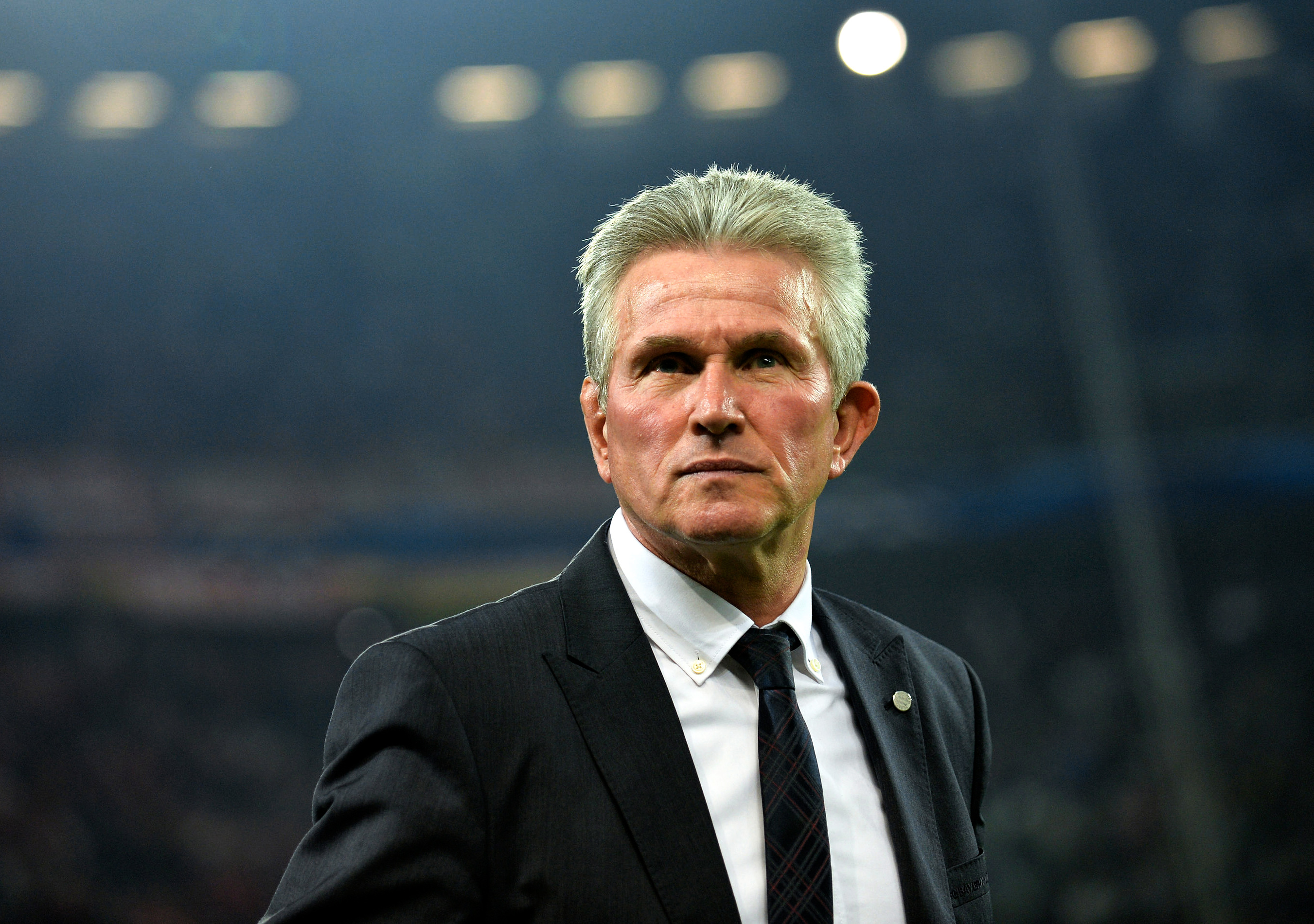 Barcelona on the other hand lined up in their famed 4-3-3 with Valdes in goal, Alba and Alves as the fullbacks, Pique and Marc Bartra as the center backs due to injuries to Puyol and Mascherano, the famed trio of Xavi-iniesta-Busquets in midfield, Sanchez and Pedro on the wings and Messi, just recently back from injury as a false-9.
The match started off as everyone expected it to; with Barcelona dominating the ball and Bayern defending. However, unlike other games, the majority of Barcelona's possession was in their own half.  Bayern morphed into a flat 4-5-1, and employed a zonal-man-to-man marking system, in which players marked their opponents based on their zone. Bayern allowed Pique and Bartra to have the ball, as long as they had no outlets. Ribery and Robben stayed close to Alves and Alba, while Busquets was marked by Muller. Xavi and Iniesta were immediately closed down by Marinez and Schweinsteiger whenever they received the ball in the Bayern half. Whenever one of Xavi or Iniesta dropped deep to receive the ball, Muller took over from their respective markers while Busquets was dealt with by Gomez. Bayern had a clear plan to stop Busquets from being able to find Iniesta, Xavi or Messi in dangerous areas. For the first 15 minutes or so, Barca had around 70% possession, but had no chances at all. They very rarely reached the final third.
However, something very interesting was Bayern's pressing methods. They did not employ a high-press, they allowed Barcelona to have possession, as long as it was in their half. The only time Bayern pressed intensely was when Barcelona progressed the ball near the Bayern box. Otherwise, Bayern maintained their structure and simply marked Xavi and Iniesta out of the game.
Pique and Bartra constantly recycled play, but the front three of Messi, Sanchez and Pedro were completely isolated. Whenever Xavi and Iniesta tried to create space through quick passing sequences, Martinez and Schweinsteiger closed them down and won the ball back. Bayern even employed some underhand tactics to stop Barca as whenever Martinez or Schweinsteiger missed a tackle, they would pull down or trip Xavi and Iniesta, which stopped any momentum from being developed.  If Xavi or Iniesta moved wider to create space, they would be marked by Robben or Ribery. This left the Barcelona fullbacks free, but since they had no outlets, allowing them to have possession did not do any harm to Bayern.
Bayern also seemed to have a whole separate plan to stop Messi. Messi, who was severly isolated, received the ball on very few occasions in the first half, and whenever he did, he would be swarmed immediately by the Bayern players closest to him. Ribery even tracked back over 40 yards to tackle Messi. In the first 45 minutes, Messi completed only one dribble, which was near the halfway line, and was fouled immediately after he had beaten one Bayern player.
Barcelona had only one big chance in the first half, when Pedro managed to get inside Alaba and sent in a low cross that would've reached Messi in the six yard box, had Dante not cleared it.
With Bayern blocking off every possible outlet in the middle, Pique and Bartra were forced to go long, but the short trio of Sanchez, Pedro and Messi and absolutely no chance of beating the likes of Alaba, Boateng and Dante in the air.
On the attacking front, Bayern primarily used two methods; counter attacking via the wings by using the exceptional speed of Robben and Ribery, or by using their aerial superiority. Every time Bayen won the ball, Muller would move to the half space near the area in which it was won. One of the Bayern defenders or midfielders would play it to Muller who would play it forward to either Robben or Ribery and they would sprint forward with it. Muller held up the ball exceptionally well and waited until the wingers started running to play the ball. Even though Barca had the legendary Dani Alves and Alba on the flanks, Robben and Ribery repeatedly got the better of them.
Up until the first two goals, Pique had put in an exceptional performance.  Every single Bayern corner and cross was cleared by Pique. Bartra was abysmal on the night. He couldn't aid Alves against Ribery nor could he stop the crosses from reaching Muller and Gomez. Pique had to do everything.
However, Bayern eventually made their aerial superiority count when a corner was cleared by Pique, but was put back in by Robben, who played it to Muller. Muller sent in a cross, and Dante towered over Alves and nodded it down for Muller to head home. 25 minutes, 1-0.
In the 48th minute, the same thing was repeated as Alves was towered over yet again, this time by Muller, who nodded it down for Gomez, who scored from 4 yards. Cue Seven Nation army.
After the second goal, Barcelona changed their tactics a lot, with Iniesta and Xavi dropping deep and Messi moving to the right wing. Barcelona tried to unleash wave after wave of attacks on the Bavarians, but were unable to. Iniesta and Messi constantly tried to dribble past players, but both were either double-marked or fouled.
Heynckes' instructions for Bayern to not press high or intensely for as long as possible proved to be an absolute masterstroke. Barcelona increased their intensity, but Bayern were able to match it, despite having being the defending team for the majority of the match. The Bayern players made their physical superiority count as they used the full bulk of their frames to push the Barca players off  the ball, while they increased the intensity of their press in their own half. Bayern employed pressing traps in which they would outnumber Pedro and Sanchez in the middle, isolating Messi. With Xavi and Iniesta operating near the halfway line, Bayern fell back into a 4-4-2 with Muller and Gomez up top. This structure forced Barca to try and go long, which posed no problem for Bayern, and even if Barca managed to break through, Bayern would outnumber the Barca players as almost all the Bayern players were in their own half.
Barcelona switched things up again, with Iniesta moving to the left half space and Alaba overlapping, while Pedro and Sanchez moved centrally. However, Robben, Lahm and Muller kept them in check, and even when they were able to cross, Bayern cleared everything.
In the seventy second minute, Ribery won the ball from Messi in his own half and started a counter. He played it centrally to Schweinsteiger who played it wide to Robben. Robben did a step over and beat Alba in the box. However when Alba tried to tackle Robben a second time, Muller got in his way and fouled him. This allowed Robben to slightly shift and place a shot beyond Valdes. Cue Seven Nation Army.
Barcelona lost all momentum after the third goal. They did have an excellent chance just two minutes after the goal, when a Xavi free kick found bartra in acres of space inside the Bayern box, but due to him having to volley on the turn, he sent his shot out for a throw in.
Bayern started to have more possession after that and less than 10 minutes later, Ribery found Alaba on the overlap, who sent in a low cross that was met by Muller. Seven Nation Army was played for a fourth time that night.
The scoreline shocked the world. Everyone knew about it, from the Queen of England to the hounds of hell (see what I did there).  Bayern had humbled one of the greatest teams the world had ever seen. They had nullified Messi, Xavi and Iniesta, and had attacked the weakness of that Barca side as much as possible. Mourinho had previously beaten the legendary Barcelona team, but never with such a scoreline, and of course he had a certain Cristiano Ronaldo to help him most of the time. Bayern made it clear who were the best team in the world. They went on to win a treble that season.